Chronic kidney disease is a silent killer that costs Medicare over $120 billion dollars annually. The 80 million Americans at risk of developing the disease are still mostly unaware of the threat—and are at a heightened risk from COVID-19 as well. Allowing them to test from the safety of home with their smartphone can help save lives and cut healthcare costs.
One in three American adults—80 million people—is at risk of developing chronic kidney disease, or CKD. One in seven already have it. But mainly due to the lack of apparent symptoms in the early stages of CKD, 90% of Americans with the disease don't even know they have it. 
People with CKD experience progressive and permanent deterioration of their kidney function. Without early detection and treatment, their kidneys may eventually fail entirely, and require dialysis or transplant. They also have a higher risk of developing cardiovascular disease. 
Treatment for CKD is one of Medicare's biggest cost drivers, amounting to over $120 billion dollars annually—nearly a quarter of all Medicare spending. Medicare covers all Americans who have end stage renal disease (ESRD), the final stage of CKD. At this stage, kidney function is at less than 10%, and kidney replacement therapy, whether in the form of dialysis or transplant, is usually necessary. 
Expenditures are high: care for a person on hemodialysis costs around $90,000 dollars every year. Even though people with ESRD make up less than 1% of Medicare beneficiaries, they account for 7% of all Medicare spending—$36 billion dollars annually. That, combined with the costs of managing non-ESRD cases of CKD, amounts to $120 billion dollars annually (including the significant costs of comorbidities like cardiovascular disease).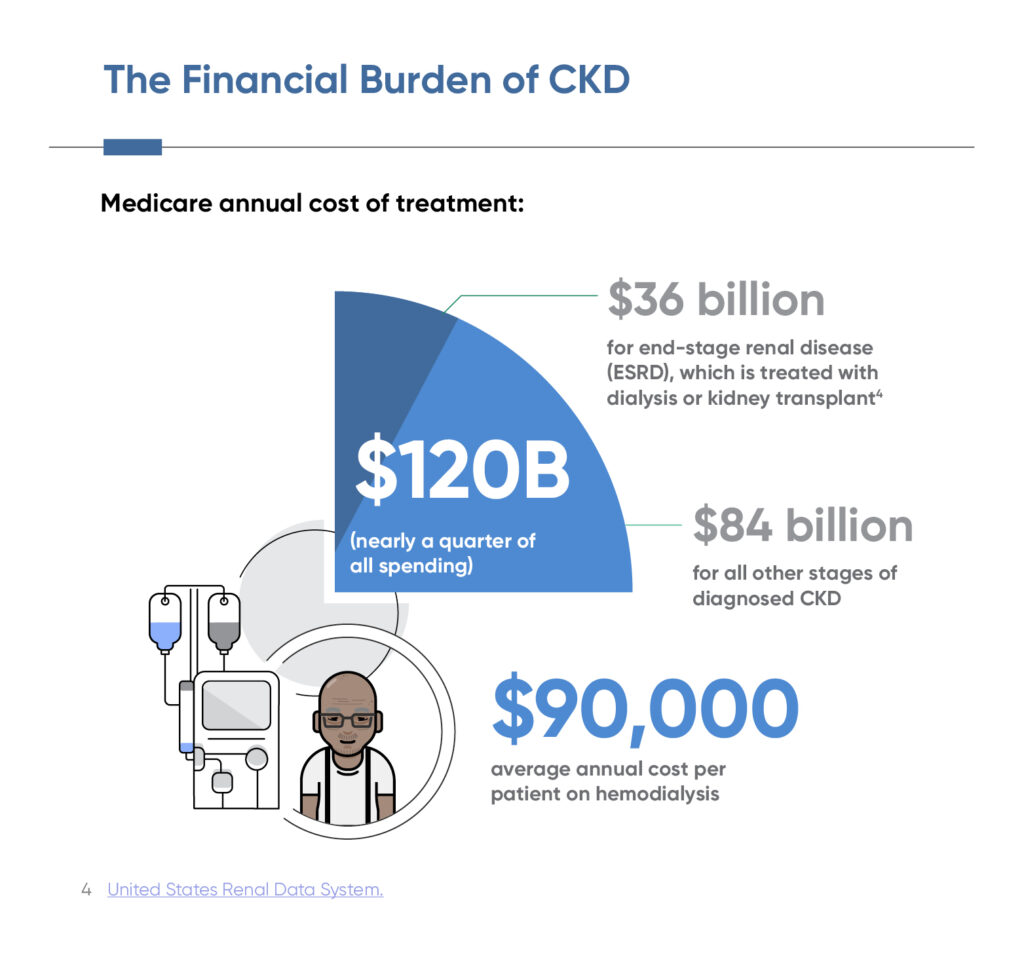 Tackling CKD with Early Detection
Early detection of CKD can reduce the need for costly late-stage treatment and ultimately save lives. Detecting CKD in its early stages allows for medical treatment and lifestyle changes that can help slow the progress of the disease, and decrease the risks of associated cardiovascular events. Promising new research suggests that sodium-glucose cotransporter 2 inhibitors (SGLT-2) may play a role in reducing the risk of kidney disease progression and the incidence of cardiovascular disease, particularly when administered to patients in the early stages of CKD.
The National Kidney Foundation recommends that people at risk of developing CKD take an annual urine test measuring the ratio of albumin to creatinine (ACR) in their urine. Albumin is a protein that healthy kidneys prevent from entering urine. Its presence in urine is an actionable early indicator of CKD, and an important risk predictor of its associated complications.
But despite the demonstrated benefits of early detection, testing rates for at-risk people are as low as 20% on weighted average. In 2016, only 41.8% percent of Medicare patients with diabetes, and just 6.8% of those with hypertension, had their urine tested for ACR (testing rates among commercial insurance populations were 49% and 7.1%, respectively). Even among those who have reached the late, dangerous stages of the disease but are not yet on dialysis, half do not know that they have CKD.
The coronavirus pandemic risks exacerbating this situation further, because the people at risk for CKD—those with diabetes or hypertension—are also at an increased risk for COVID-19 complications. A visit to the clinic for a urine test—already unpleasant and inconvenient—should now be avoided if at all possible. 
To quickly raise testing adherence and allow for early detection at scale, a new approach is required: one that makes testing safe and convenient.
Raising Compliance with At-Home Testing
Healthy.io's CKD Early-Detection Service allows people to do their ACR urine test from the comfort of their homes using a test kit and their smartphone, saving them a visit to the clinic. The service uses proprietary artificial intelligence algorithms to recognize the dipstick's true colors, regardless of the wide variance in smartphone camera type and lighting conditions. As part of the service, people also receive a friendly reminder to do the test if they have not yet done so.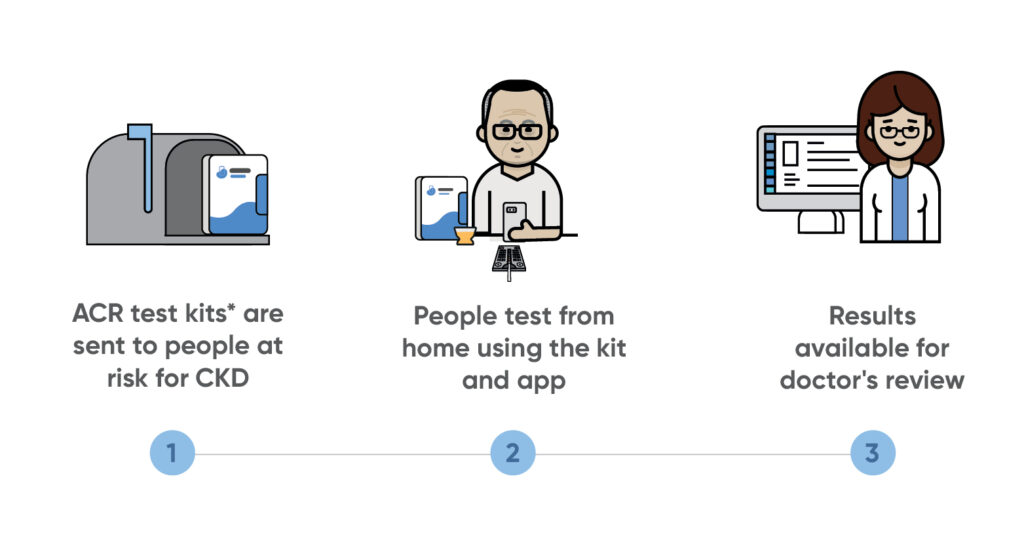 The CKD Early-Detection Service's ability to raise compliance was proven in a clinical evaluation in partnership with Geisinger primary care clinics in Pennsylvania, with funding provided by the National Kidney Foundation. The service was successful in raising compliance from 0% to 72% among people with hypertension who had never undergone urine testing for CKD and consented to participate in the evaluation. 89% of those surveyed preferred testing at home to testing at a clinic. A similar increase in testing compliance was achieved in a clinical evaluation in cooperation with Modality Partnership clinics in the United Kingdom.
The risk of developing CKD increases with age—45% of Americans over the age of 70 already have it. As the population ages and the comorbidities associated with the disease increase in scale, the number of people suffering from CKD will only continue to rise, as will the cost of treatment. These trends will contribute to rising Medicare expenditures, which are projected to double to more than $1.5 trillion dollars by 2028.
The shift of health plans to value-based care presents a unique opportunity in the fight against CKD. According to an external actuarial evaluation we commissioned recently, using at-home urinalysis to identify CKD early and allow for effective preventative treatment, can dramatically cut costs for value-based plans. The evaluation demonstrated a positive ROI within two years and a net gain of $708 per identified member over three years.
In the face of the coronavirus pandemic, there is an even greater urgency to tackle CKD by raising awareness among the general population, and screening everyone at risk so that the disease can be detected and treated early.