People all over the world are staying home to fight the spread of COVID-19. Ailments that are not related to the coronavirus must still be treated, but there's always a risk involved with visiting the clinic.
One particularly common example is urinary tract infections, or UTIs, which is one of the most widespread types of infection. A recent Public Health England survey found that 95% of women who have had a UTI said they needed to see a doctor, and 74% had to take antibiotics to treat the painful condition.
That's why we're proud to announce the launch of Velieve, a same-day at-home UTI test and treat service. Women with suspected UTIs now have access to clinical-grade care and get relief on the same day—all without leaving their home. And because the service doesn't require a GP appointment, it has the potential to dramatically ease the burden on the NHS, where UTI-related appointments account for up to 10 million GP appointments a year.
Velieve uses the smartphone camera to help diagnose UTIs within minutes. If needed, medication can be delivered to the door within hours—a UK first. In light of the urgent need for safe, quality care, and to help reduce the burden on the healthcare system, we're launching this end to end solution at a significantly subsidised cost, including the kit, its delivery within three hours, and the online GP consultation. 
London-based GP, Dr Nisa Aslam said: 
Traditionally, women suffering from a UTI need to secure a GP appointment and do a urine test in the clinic. If they are prescribed medication, they need to pick it up from a pharmacy. In most cases, the entire process takes at least two days. With Velieve, women suffering from the painful condition don't need to leave their homes and risk exposure to COVID-19 for diagnosis and treatment. The entire process, from ordering the kit to receiving medication—if applicable—takes only a few hours.
The Velieve kit includes a small plastic cup and a single wrapped, three-parameter dipstick, identical to the one used by clinicians. When the dipstick is submerged in urine, changes in colour indicate the presence or varying levels of indicators needed to test for UTIs.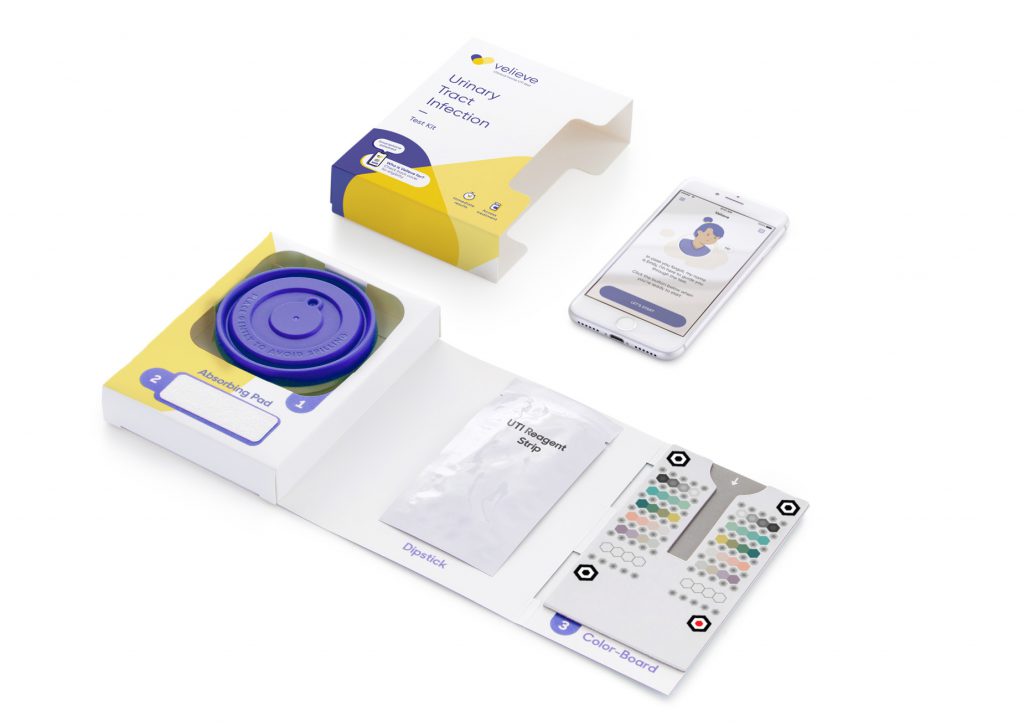 In its initial London roll-out, the new Velieve test kit can be ordered and delivered to any address across the capital within three hours, with courier services offered by Gophr. The test is conducted with guidance from Emily, an in-app nurse who facilitates the test step-by-step. Behind the scenes, our state of the art colour recognition technology analyses the dipstick. In partnership with Medicspot, an online clinician will review the results alongside the patient's symptoms. Answers are provided to the registered mobile phone user within minutes, and results can also be shared with the user's clinician. If a UTI is diagnosed, antibiotic treatment can also be ordered and delivered within another three hours, or collected from a nearby pharmacy. 
Velieve is the second UTI test and treat service offered by Healthy.io. The company first introduced its pioneering smartphone powered clinical pathway to test and treat UTIs with its pharmacy-first test and treat service, available at 1,600 retail pharmacies across the UK. In addition, we've also partnered with Modality Partnerships—an NHS GP partnership—to provide high risk populations with a CKD early detection service in Yorkshire and Humber. NHS clinicians also use our dedicated smartphone app and web portal to digitise wound measurement and documentation—two of the most significant challenges in the current process.
Follow Velieve on Instagram!