Every second woman will suffer from a urinary tract infection at some point in her life. For many, this is a far more common occurrence. The symptoms—primarily the frequent urge to pass urine, and pain when passing urine—are highly unpleasant. If left untreated, UTIs may develop into more serious infections.
UTIs affect society on a global scale: 150 million people around the world, the vast majority of them women, suffer from a UTI every year.
The associated treatment costs are high, accounting for more outpatient visits than any other infection in the United States and incurring more than $3.5 billion annually in treatment costs and missed workdays. 
In the United Kingdom, suspected UTIs make up about 3% of all general practitioner (GP) visits—approximately 10 million annual visits—costing the National Health Service over £300 million annually. In a survey we conducted of 1,000 women across the UK who have suffered from UTIs, 58% said they had to wait at least two days for an appointment while suffering from unpleasant UTI symptoms. 
That's why we've created a pharmacy-first clinical pathway that allows women suffering from UTIs to get treatment fast. Since it saves them a trip to the clinic, it can also save time and resources for GPs. Our UTI Test and Treat digital urinalysis service, called Dip UTI, is now available at hundreds of pharmacies across the United Kingdom, allowing women to take a urine test from the comfort of their homes or at a nearby restroom and receive results immediately. They can then share the results with their pharmacist for further treatment, including antibiotics when appropriate. (Patient Group Directions allow pharmacists to supply antibiotics in accordance with strict guidelines and criteria.)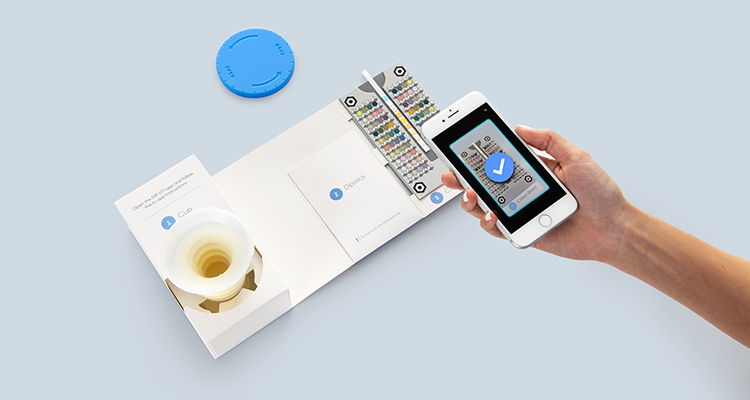 The urine test kit includes a cup, standard dipstick and patented colour board. After doing the test, women dip the dipstick and scan it with a mobile app on their smartphone. The app uses image-recognition technology to produce clinical-grade results instantly.
Hear what customers say about our UTI Test and Treat service
Through our partnerships with the largest pharmacy chains in the UK, we now offer our UTI urine test kit behind the counter at hundreds of branches, and online.
Easing the burden on GPs and expediting treatment for patients—all without compromising on quality of care—holds many societal benefits. And in fact, making greater use of local pharmacists' skills and close familiarity with their communities to lift some of the primary care burden off GPs is an important part of the National Health Service's Long Term Plan.
Like in the UK, pharmacies in the United States have begun serving as first points of care. For example, several retail pharmacy chains have opened walk-in clinics within some of their branches. These clinics are typically staffed by nurse practitioners or physician assistants, and offer care for uncomplicated conditions, such as ear infections or sore throats. Technology has the potential to transform every pharmacy into a walk-in clinic for women with UTIs, without the need to hire additional staff or allocate dedicated store space. The principal remains the same: using technology to help deliver quick and convenient clinical-grade care and relief.