The COVID-19 pandemic has triggered a dramatic shift toward telehealth solutions for wound care, whether it be a remote consultation between a nurse and wound care specialist, or a televisit using a smartphone app. Understanding the transformation of wound care as a result of COVID-19 provides instructive lessons for the long-term integration of telehealth practices post-pandemic. 
In our recent webinar on the impact of telehealth in wound care, we featured Dr. Elaine H. Song, CEO of WoundReference, Catherine Milne, co-owner of the Connecticut Clinical Nursing Associates, and Tiffany Hamm, co-founder of WoundReference. They discussed the challenges, solutions, and best practices for successfully adopting telehealth modalities across various settings. 
Here are 5 key takeaways from the webinar:
1. Digitization is standardizing and coordinating wound care
Even before COVID-19, clinical evidence suggested that digital tools for wound care are as good or better than standard care, with particular benefits in managing chronic wounds. Chronic wound care takes place across multiple care settings, including primary and urgent care, home care, acute care, and other facilities. There are a number of challenges that are common across all of these settings, including:
Inconsistent wound measurements 

Variable documentation among providers

Incorrect pressure injury staging 

No efficient "look-back" processes in place

Lack of coordination in and between settings
Digital solutions for wound care  facilitate early intervention and early referral to experts, improved documentation and coordination between providers and settings, and improved patient outcomes. 
2. Telehealth is not one-size-fits-all
There are a number of different modalities of telehealth, with both patient-to-provider and provider-to-provider use cases. Each has its own set of reimbursement codes, making it vital to identify what modality is best suited to specific needs and implement documentation protocol to maintain HIPAA compliance.
Telehealth modalities include:
Real-time virtual communication

Remote patient monitoring

Asynchronous store-and-forward

Mobile health (mHealth) 


Across all of these modalities, there are shared best practices for implementation. As telehealth becomes table stakes in wound care, health care providers need to determine which modality of telehealth is appropriate based on the patient and circumstances and implement protocol for frictionless digital integration.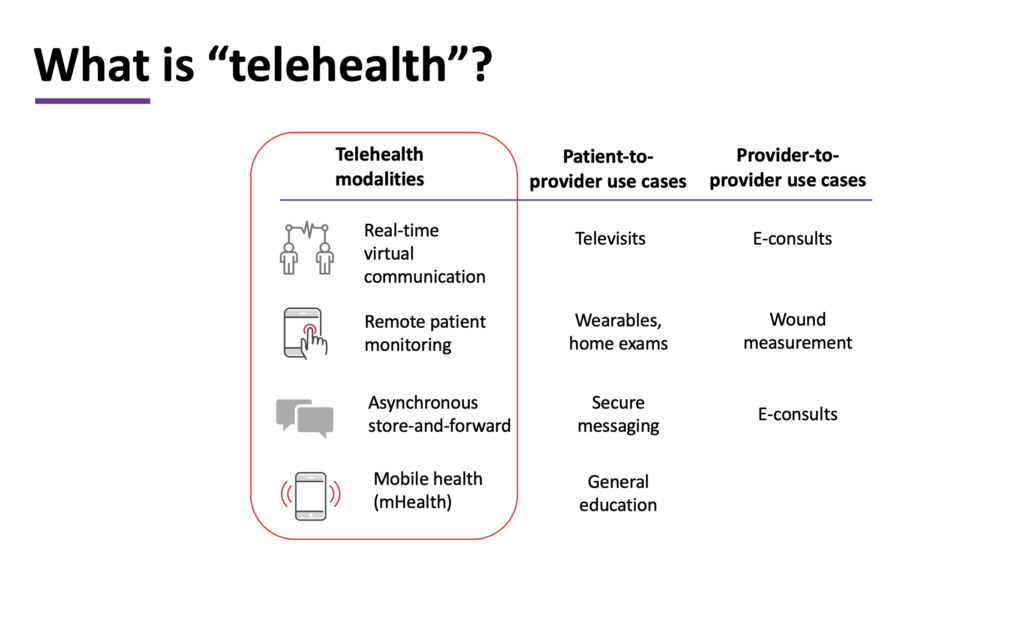 3. Training stakeholders is necessary for telehealth integration
COVID-19 has provided the opportunity to identify barriers to telehealth integration. There are some things to keep in mind prior to adopting any telehealth modality, including having the right equipment, developing processes on how to train staff and care for patients, and remaining agile in the face of shifting regulations and staffing changes. 
Keeping staff up to date and patients informed is vital to successfully implementing telehealth solutions in wound care. Based on lessons learned during COVID-19, digital transformation in wound care will involve developing training and workflow processes before, during, and after a visit. 
4. Telehealth is the new normal for wound care 
Televisits will be the first line of treatment for simple follow-up care and for patients who cannot come in. But televisits alone will not replace effective wound management practices, which require the continuous monitoring of wounds over time. Digital wound management solutions offer an effective platform for clinicians to coordinate care, standardize assessment, track wound progression, and facilitate reimbursements and compliance. 
An example of a wound care workflow that combines multiple modalities of telehealth to streamline documentation and improve efficiency is shown below.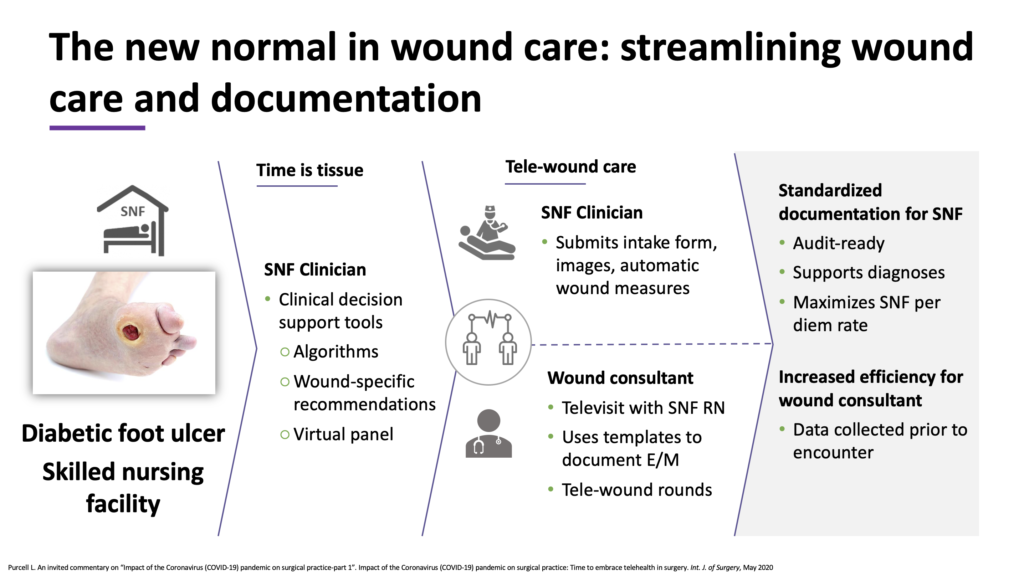 5. Things to consider when choosing a telehealth solution
The pandemic has increased the provider-to-patient gap in many wound care settings, with lost revenue and decreased patient adherence. These challenges are driving the integration of telehealth modalities, which will be here to stay in the long term.
Before integrating telehealth into your strategy, here are some things to keep in mind:
Choose a HIPAA compliant solution

Choose a wound-specific solution that fits into your current workflow

Choose a solution that supports accurate documentation to ensure you are getting properly reimbursed

Choose a solution that is easy to use and patient-centered

 
Summary
Telehealth is rapidly changing chronic wound care. The pandemic has forced us to rethink how we treat patients and how to respond to challenges in wound care efficiently. By streamlining documentation, coordinating between various providers, and improving follow-up and adherence, telehealth solutions make patient experience the number one priority. 
For access to the full webinar and our expert panel's valuable insights, view the on-demand recording here.