Healing can seem deceptively simple. In some cases, wounds heal quickly and without special complications. But for the millions of people around the world who suffer from chronic wounds that take months and sometimes years to heal, the question of whether or not their wound is healing is far from simple, and relies on information that is difficult to collect and analyze.
One key metric for answering that question is the size of a wound. But a wound's dimensions are often difficult to measure and track over time, especially when clinicians use rudimentary tools like paper rulers that have been shown to be inaccurate. Healthy.io's digital wound management solution solves that problem by using 3D imaging captured with a smartphone app and two color calibration stickers. This eliminates conjecture, providing a clear answer as to whether the wound has improved, deteriorated, or stagnated since it was last scanned, allowing for earlier interventions and the modification of care plans.
While a wound's dimensions are important, they tell only part of the story. To fully understand a wound, it is crucial to examine the distribution of the various tissue types that make up a typical wound: granulation, slough, and necrosis. The complex interplay and patterns of change between tissue types can give a strong indication regarding healing. But measuring each tissue type in relation to the others is even more complicated than measuring a wound's dimensions. A slight decrease in necrotic tissue, coupled with an increase in regenerative slough and granulation, for example, is a good sign that a wound is healing—but one that can be easily missed by the naked eye.
The digital wound management solution's new tissue distribution feature automates tissue analysis, providing a powerful tool for assessing patients' wounds. Now, in addition to calculating a wound's surface area, the solution automatically analyzes and calculates its interior makeup, using cutting-edge machine learning algorithms that rely on real wound imagery evaluated by experts.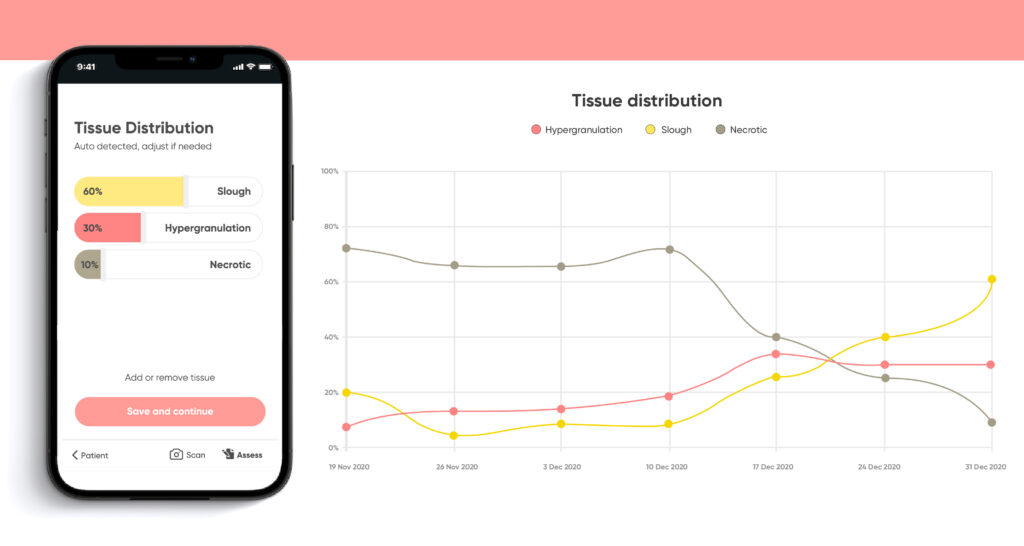 The result is a clear and precise list of tissue distribution across four categories: granulation, slough, necrotic, and 'other'. Those categories are marked in proportion to one another, and the clinician conducting the assessment can make manual adjustments if necessary.

While an accurate snapshot of tissue distribution is valuable, it is with regular use that the feature proves indispensable, because of its unique ability to track and display the relative changes to distribution over time, allowing clinicians to consistently gauge the efficacy of their chosen care plan. By enhancing unmediated impression with accuracy, automatic tissue distribution is an important new tool in the wound clinician's toolbox.