Women undergo a series of regular check-ups over the course of their pregnancy—as many as 12 visits for each healthy pregnancy. Given that 140 million women give birth every year, that amounts to a whole lot of appointments. But as the coronavirus pandemic spreads, many pregnant women and the clinicians that care for them aim to minimise visits to the clinic, in order to maintain social distancing standards and prevent unnecessary exposure.
Urine tests are an important and common part of antenatal check-ups, as their results can provide strong indicators for preeclampsia and gestational diabetes. But even before the coronavirus made visits to the clinic less desirable, many pregnant women found the experience fairly unpleasant as they tried to maneuver in a cramped public bathroom. 
The time it takes to conduct a urine test is usually deducted from the already limited time allotted to appointments—time that could be better spent consulting with the doctor or nurse. And with the growing shortage of OBG-GYNs and midwives, their time is at a premium. Easing their burden allows more time to focus on the patient and provide them with close clinical guidance and care. 
The new and unprecedented social distancing measures implemented recently around the world pose significant challenges for antenatal care. But at-home testing and consultations have the potential to address many of the associated concerns. Healthcare organizations around the world are beginning to follow suit, opting to conduct as many appointments as possible remotely.
Healthy.io's antenatal test service, currently available to women in the UK and Israel, enables pregnant women to conveniently and hygienically take routine urine tests from the comfort of their homes, using a simple test kit and smartphone app that delivers clinical-grade results to their clinicians immediately. That can help keep unpleasantness to a minimum, reduce unnecessary exposure to contagions, and allow clinicians to better invest their time and resources, all while retaining the highest standards of care.
Israeli HMOs are some of the most innovative in the world when it comes to digitising services. But until recently, all of their antenatal tests were conducted in community clinics during women's monthly visits with nurse midwives, taking up precious appointment time. 
Today, the country's largest HMOs offer Healthy.io's antenatal service to the pregnant women they serve. Clalit Health Services, the second-largest HMO in the world, offers women a Home Maternity Care Box during their first antenatal appointment. The box includes multiple urine test kits. Before each appointment, women do a urine test at home, saving five to seven minutes of appointment time that can be devoted to discussing the pregnancy's progress instead.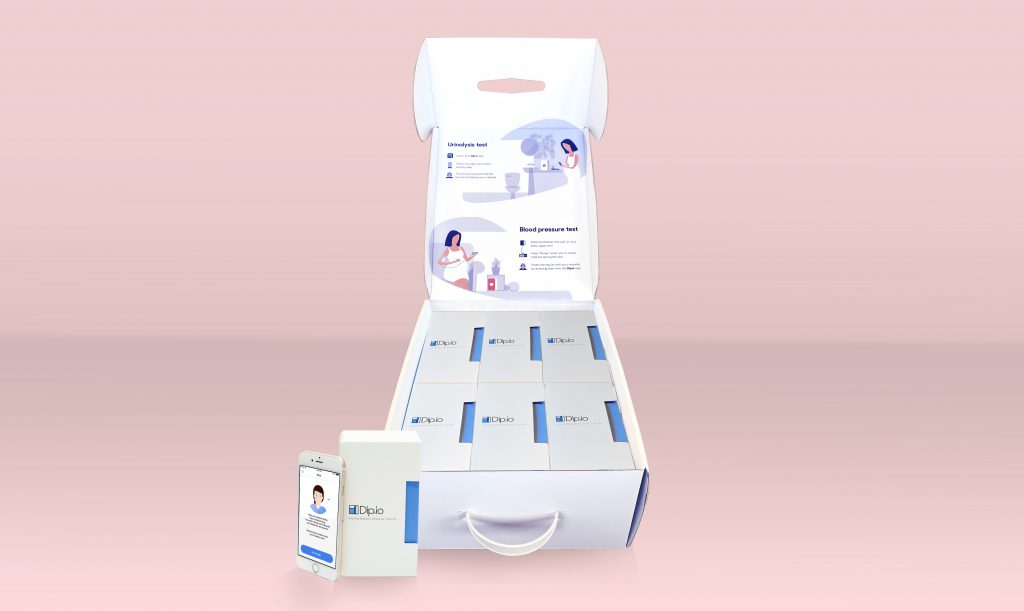 Maccabi Health Services, Israel's second-largest HMO, offers our  antenatal service in a format that reduces the total number of in-person appointments. The Care Box includes a blood pressure monitor in addition to the urine test kits. Before each appointment, women do their urine test and measure their blood pressure at home. Results are sent directly to their clinicians. Appointments are conducted with their nurse midwife remotely, during convenient telephone appointments that don't obstruct their schedules but allow for the same close care and monitoring that they would receive at their local clinic.
A study conducted in clinics in Baltimore, Maryland, found that Healthy.io's smartphone-powered urine test is a preferred and easy-to-use solution for pregnant women: 96% of the women surveyed found the test easy or very easy to use, with more than six times as many preferring at-home self-testing to in-clinic testing (the study was conducted with researchers from the Johns Hopkins University School of Medicine and published in the American Journal of Obstetrics and Gynecology). 
Healthy.io's antenatal service also streamlines the clinical workflow. It includes a dedicated web portal for easy implementation, with an option to integrate into the existing clinical system. That way, test results can be transmitted directly to each woman's electronic medical records.
The service can be particularly useful for pregnant women with hypertension, which affects as many as 1 in 12 pregnancies in the United States. They are at a higher risk for preeclampsia, and require frequent urine tests—as often as twice a week. Home-based self-testing enables more frequent monitoring of high-risk pregnancies, improving outcomes and reducing the total cost of care as a result.
Across pregnancies both high-risk and low-risk, whether freeing up precious time in a antenatal appointment or allowing women to take the appointment via phone, our antenatal service provides women with the safety, comfort and convenience they deserve.
Interested in hearing more about our antenatal service? Please contact us.