Space: the final frontier. Healthy.io is proud to announce a new mission: to boldly go where no urinalysis service has gone before. On April 8, 2022, we took off for outer space. You're welcome to watch our liftoff below.
We've long been committed to the principle that where there is an optical sensor and bandwidth, we can deliver clinical value. After transforming the smartphone into a medical device and serving tens of thousands of people across the planet—we've embarked on a journey to bring clinical-grade testing to the rest of the galaxy.
When the Ax-1 spaceflight docks at the International Space Station (ISS), orbiting some 418 km (260 miles) from Earth, a very special edition of Healthy.io's Minuteful Kidney test app and kit will be on board. We were invited to join a select group of research centers and companies selected by the Ramon Foundation to accompany Eytan Stibbe, the second Israeli in space, during his 10-day stay on the ISS, on a mission to empower Israeli space research and technology development for all mankind.
As missions to space become longer and more common, astronauts will need a variety of diagnostic tools to screen and monitor bodily function over the months and even years spent on board. One such tool is urinalysis, which is the standard method to screen for a number of conditions, ranging from metabolic conditions to kidney function. 
While kidney function in space has been researched in the past, the full effect of zero gravity and cosmic radiation on the kidneys remains unknown, and the field is ripe for further study. One factor complicating such research has been the need to capture urine in space, freeze it, and test it back on Earth. With our technology, astronauts will be able to conduct albumin to creatinine ratio (ACR) urinalysis tests in space, allowing them to measure kidney function entirely in real time. 
Here on Earth, the Minuteful Kidney test has been an invaluable asset to healthcare organizations, helping detect chronic kidney disease among people at risk for the disease in its early asymptomatic stages. Though the technology under the hood is powerful, the user experience is simple. People at risk for the disease receive a test kit which includes a single use cup and dipstick. After filling the cup with urine, they submerge the dipstick, place it on a designated color board and scan it with our app to receive the results within seconds.
Life on the International Space Station is very different from life on Earth, introducing a new set of complexities for our engineers to grapple with. We knew our traditional test cup would be impractical at best under zero gravity conditions. But after studying life aboard the space station, including how astronauts urinate in space—using a special Urine Collection Device (UCD) powered by suction—we came up with a solution that would allow us to bring our lab-grade testing to infinity and beyond.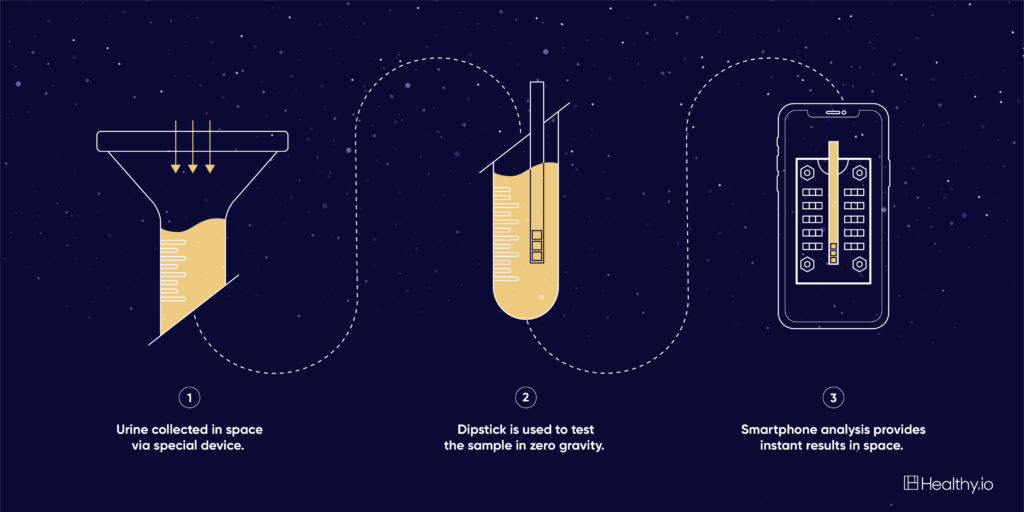 Our solution includes a specially designed funnel-shaped device that clips on to the UCD. As the urine flows through our device and into the UCD, it splashes on to a detachable dipstick. The dipstick is then removed, clipped on to a color board, and scanned with a tablet computer. The tablet runs a unique version of our app to conduct algorithmic analysis and produce the test results.
Hear more about our space mission from our Chief Product Officer, Ron Zohar, in a recent i24 interview:
At Healthy.io, we've had our fair share of moonshots—though none quite so literal as this. As could be expected, this project carries with it a series of firsts for us. We are used to meeting the highest regulatory standards to deliver clinical-grade testing, and we enjoyed applying that expertise in order to meet and exceed the complex standards required for devices used in space, including the use of special materials. And we're excited to deliver a user experience for the women and men of the ISS that will be just as seamless as that of the countless Earthlings who have used our products.
Stay tuned for more updates from our space mission. We hope you'll join us in celebrating one small step for man, one giant leap for Healthy.io.
Alon Blumenzweig is Products Architect at Healthy.io and leads the technology development for the company's space program.