Perhaps the most disturbing statistic associated with chronic kidney disease is the longstanding gap between its high prevalence and the low rate of testing for the disease. And according to two recently published studies by leading experts, that gap remains large. The surprising culprit? A urine test.
The studies found that the leading cause for low testing rates among people at risk for CKD is the lack of albuminuria testing. This is especially concerning because the albumin-to-creatinine ratio (ACR) metric, obtained via a urine test, can help detect the disease in its early, asymptomatic stages, allowing for early interventions that can stave off the need for transplant or dialysis, and help prevent cardiovascular complications.
The article published in Diabetes Care—probably the largest retrospective analysis of CKD testing rates ever published—confirms that "Chronic Kidney Disease Testing Among At-Risk Adults in the U.S. Remains Low". Using real-world data, the study's authors identified nearly 30 million patients at-risk for kidney disease. Of those people, over 80% percent were not assessed for CKD in accordance with standard medical guidelines.
The majority of patients had their kidney function tested via the eGFR blood test, which measures kidney function, and can identify CKD in its advanced stages. That test's inclusion in routine blood panels explains its relatively widespread use. But an eGFR test does not provide the early and actionable detection made possible by an ACR test, which measures kidney damage directly.
Despite clinical recommendations that people at risk for CKD do both eGFR and ACR tests annually, only 21% of patients in the study underwent ACR testing. This is perhaps the main reason why of the estimated 37 million Americans with kidney disease, some 90% do not know they have the disease. If testing for the disease—especially early testing—remains at its current low rate, many people with CKD will find out they have the disease at too late a stage for optimal treatment. Many may not discover that they have the disease at all. The resulting health and financial burden—approximately $120 billion annually—cannot be overstated.
Another recent study highlights an often-overlooked CKD risk group where testing is even lower than average. A group of researchers from Johns Hopkins University compared global ACR testing in the two main CKD risk groups: people with diabetes and people with hypertension. Both groups have a roughly similar risk of CKD, but as one of the study's authors, Dr. Josef Coresh, recently told us, "Unfortunately, the screening rates are suboptimal in diabetes—and really low in hypertension."
Nearly half of all American adults have high blood pressure—a leading cause of kidney disease. But the study found that screening for albuminuria among people with hypertension was as low as 4%. The median prevalence of abnormal ACR—indicating renal damage—for people with high blood pressure is almost 22%. Based on those findings, the ratio of detected to undetected cases of abnormal ACR is 19.5-to-1 among people with hypertension, leaving countless CKD cases unaccounted for. For people with diabetes, the ratio is 1.8-to-1—less dramatic, perhaps, but still troubling.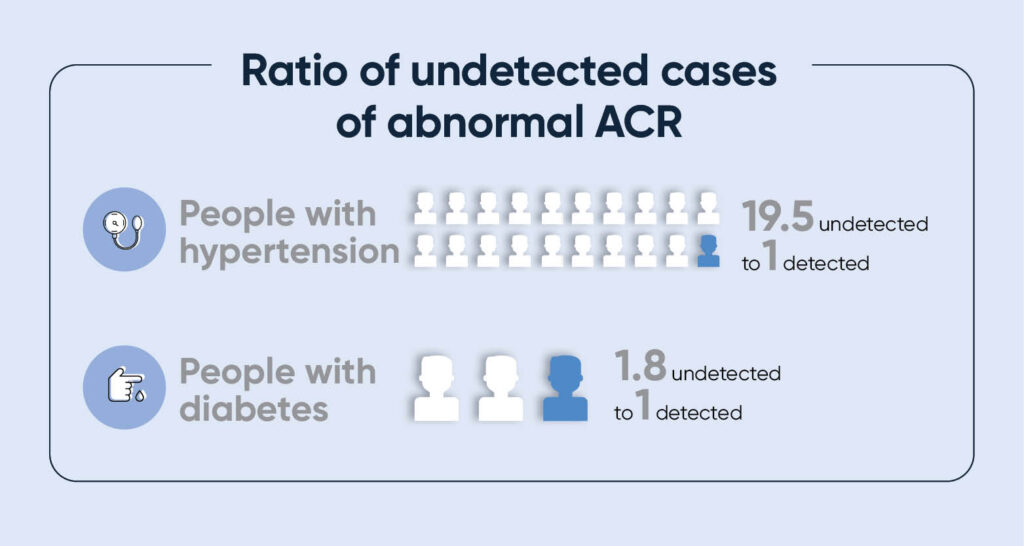 Multiple studies have emphasized the health and financial benefits of early CKD detection, which allows for management and treatment that can have a real impact on the progress of the disease. As the authors of the Diabetes Care article wrote, "The findings in this study highlight the need for population-based approaches to improve CKD awareness, many of which are under way." One initiative which receives special mention is the National Kidney Foundation's Are you the 33%? awareness campaign, which was conducted in partnership with Healthy.io.
This latest round of research offers one of the most comprehensive looks to date at a chronic problem affecting tens of millions in the United States alone. And while fighting chronic kidney disease requires a multi-pronged approach, involving everything from sophisticated clinical research and development efforts to grassroots awareness campaigns, the urgent need to raise ACR testing rates is as clear as ever.
For more about Minuteful Kidney and raising adherence to ACR testing, click here.