The Kidney Health Evaluation for Patients with Diabetes (KED) HEDIS® measure, recently proposed by CMS for inclusion in the 2026 Star Ratings, introduces an important new requirement: an annual albumin-to-creatine (ACR) urine test for members with diabetes. That test detects kidney disease in its early, asymptomatic stages, facilitating treatment that can slow the disease before its dangerous later stages. Since 90% of the nearly 40 million Americans living with CKD don't know that they have it, ACR testing at scale can significantly improve health and economic outcomes.
The KED measure, developed by the National Kidney Foundation and the National Committee for Quality Assurance, can help health plans save countless lives of people at risk for chronic kidney disease, or CKD, who were going undetected under previous measures. But without reaching the large untested and at-risk population, plans are poised to see a sharp decline in their ability to meet kidney health metrics. What's more, many members with undetected and untreated kidney disease will face stark health outcomes, whether in the form of kidney failure or associated risks such as cardiovascular disease. 
An ACR urine test may seem simple enough to do, but as few as 20% of people at risk for CKD perform one every year, creating a major kidney health gap. The average ACR testing rate for people with diabetes is closer to 40%, which still leaves an enormous amount of cases undetected. 
Myriad factors—time, transportation, low awareness on the part of both patients and their clinicians—together form a significant barrier to testing at the lab. The health gaps are even greater for minority populations, with Black Americans almost four times as likely as their white counterparts to develop kidney failure.
Annual ACR testing is an integral part of the clinical guidelines issued by expert organizations such as the NKF. The new KED metric, developed in cooperation with a range of prominent stakeholder groups, is an important step towards systemic alignment with those guidelines and improving diagnosis of kidney disease, allowing providers to optimize care plans accordingly. But if ACR adherence rates remain low, health plans will see their quality performance rates suffer, from an average of 85% under the outgoing metric (Medical Attention for Nephropathy) to 49% under the KED metric.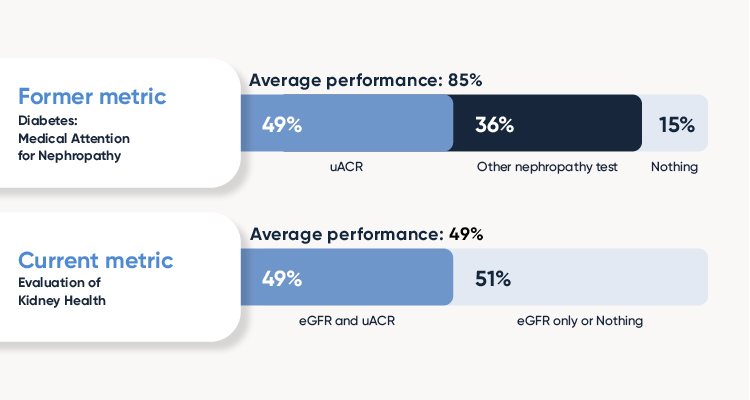 Raising adherence and closing care gaps
To maintain their high performance in the KED era, health plans need to rethink how they engage with their members. Rather than making marginal improvements to the experience of urine testing in the lab—further complicated by the pandemic—an altogether different approach is warranted.
The key to raising testing adherence is meeting members where they are, by allowing them to test at the time and location most convenient for them. Healthy.io's Minuteful Kidney does just that. Members at risk for CKD receive a test kit at their doorstep, and perform the test much as they would in the lab restroom. An app guides them through the process of dipping and scanning their ACR test, while proprietary computer vision algorithms ensure quality results. The process is complete within minutes, and the test results are shared with their doctor for follow-up.
By deploying Minuteful Kidney, health plans have increased ACR testing adherence up to 50% among untested populations.* Not only is that adherence boost crucial in light of the new quality metrics—it unlocks a range of additional positive outcomes. Newly detected cases result in an increase in risk scoring, while earlier treatment prevents costlier treatment down the line, reducing the total cost of care. A model by an external credentialed actuary identified a $1,008 3-year net gain per identified member, and a two-year positive return on investment. Removing the obstacles to care is especially helpful in reducing health disparities. And for all members, significantly reducing the risk of kidney failure, dialysis and transplant is priceless.
* 

Internal data on file.
HEDIS® is a registered trademark of the National Committee for Quality Assurance (NCQA).