Last month I had the pleasure of joining Paula LeClair, our US GM, and Adam Russell, our VP of US Strategy and Partnerships, in Chicago for the AMGA Annual Conference. This conference is a great way to connect with our industry peers and professionals and is filled with valuable networking, countless learning opportunities, and inspiring presentations–including one from Paula herself alongside our partners from Valley Medical Group and AMGA.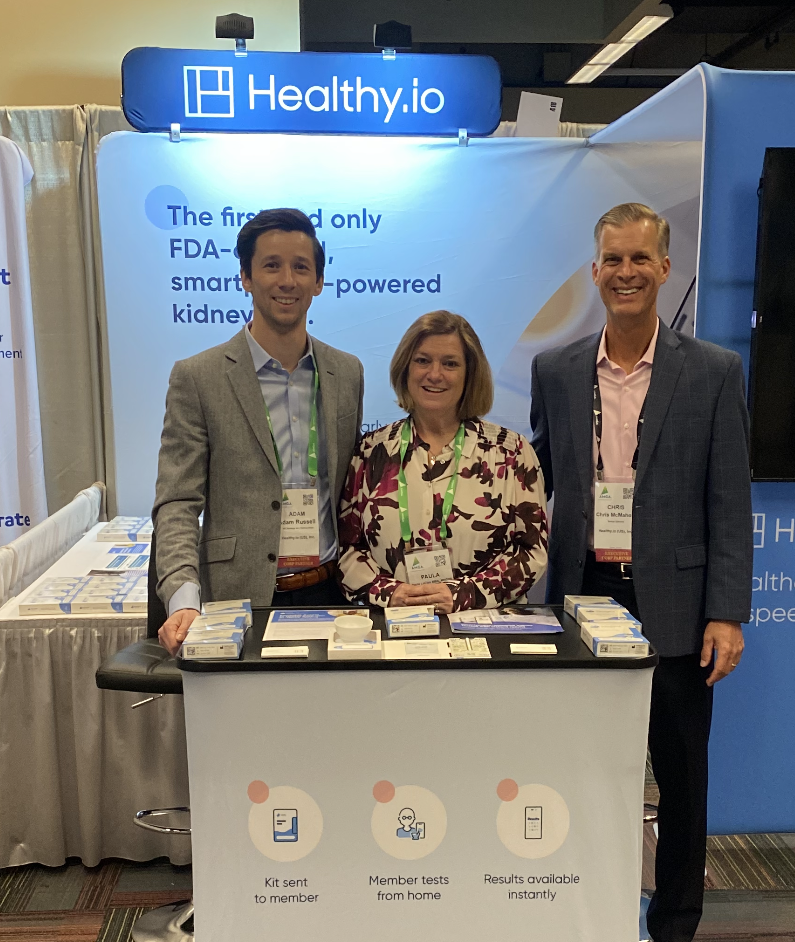 Adam Russell, Paula LeClair, and Chris McMahon at the Healthy.io booth in the exhibit hall
During the first couple of days, we had several insightful discussions with physician leaders from health systems representing primary care, population health, and clinical programs. The majority of the people we spoke with were familiar with the CKD epidemic in the US and the importance of early detection, as well as the new KED Star measure. Many of them acknowledged their own gaps in kidney care and low albumin-to-creatinine ratio (ACR) testing rates due to either a lack of general awareness among providers, complications with lab orders, or the patient's ability to provide a sample during their visit/returning for the lab test. 
It was beneficial to have these conversations and share and demonstrate Minuteful Kidney as a viable proven solution to help improve kidney health. We received a lot of positive feedback on the ease of use and simplicity of the Minuteful Kidney testing experience, as well as several positive comments about the service being a single ACR test and fostering communication between the provider, patient, health system, and health plan. Additionally, we had numerous people take a demo kit home with them to try for themselves or share with their colleagues!
Even with all the excitement at the beginning of the conference, I think the speaking session and poster presentation with Cori Grant, AMGA, Joshua Gregoire, Valley Medical Group, and Paula was the highlight of the conference. Despite the early-bird slot, it was well attended with people from 10 different organizations participating. The session, "Utilizing Technology to Close Care Gaps with At Home Testing," gave participants insight into our collaboration with Valley Medical Group and AMGA which provided Minuteful Kidney to patients in their network. It was great to share some of our learnings and successes from the study–like the 49.2% test completion rate and high patient satisfaction rating with 93% calling the test easy or very easy to complete.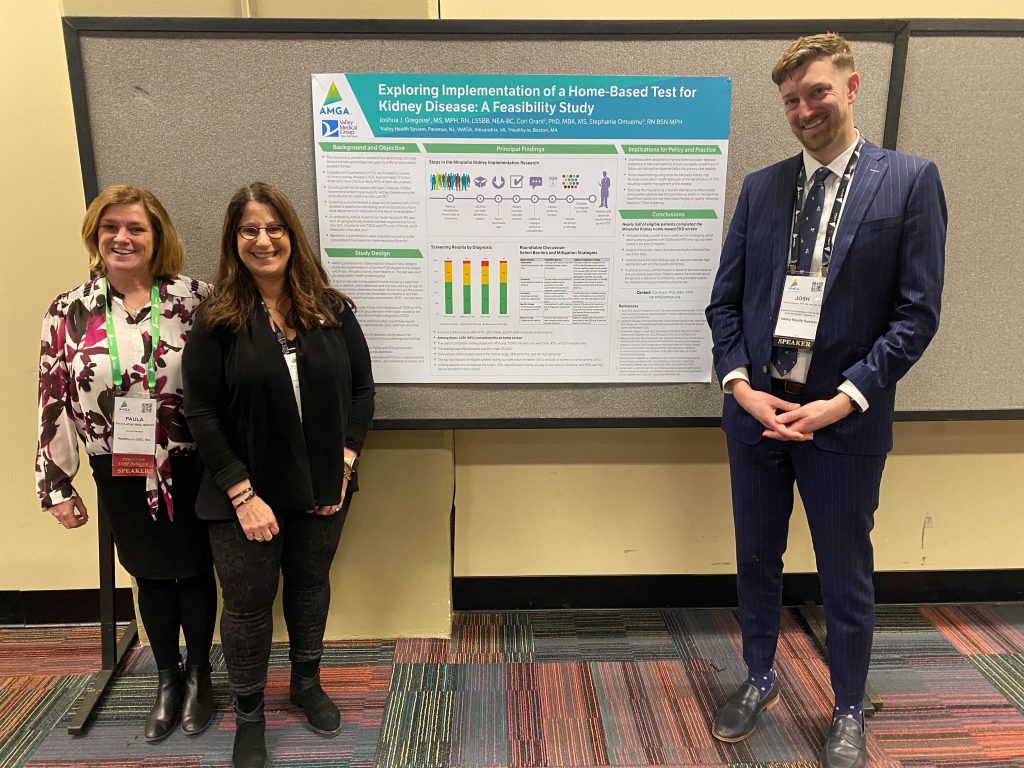 Paula LeClair, Cori Grant (AMGA), and Joshua Gregoire (Valley Medical Group), with the poster presentation.
Overall, the week was a success with great new connections made and opportunities to improve kidney health throughout the country! Thank you to everyone who visited with us to learn how together, we can improve people's lives through a quick, easy-to-use test completed in the privacy and comfort of home.
If you attended the conference and didn't get a chance to connect with our team and would like to learn more, please reach out to us to explore how we can make a difference in the communities we serve. Also, if you'd like a copy of the poster presentation, let us know in the link above.